Posted by Everyday Healy on March 3, 2011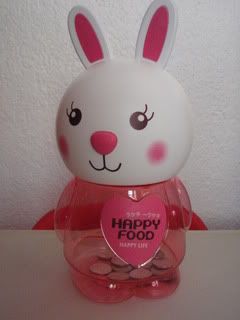 This cutie rabbit was a present from CNY Auntie Jen. It has Jellies in it was it first reached my hand. I was told that I can save coins in it once I finish the jellies. That's a good idea!

So, I eagerly ate all the jellies. Then, I pour some coins of mine from my other coin boxes into it. Now, I was working so hard to earn my own money. I tried my best to complete all the works given by mum everyday.
I did lots of coloring, writing, maths equation, cut and paste, board games and so on since 2 days ago. It all began on the beginning of this march.What a great beginning! The harder I work, the more I earn. For the moment, it's such an interesting game for me.
I am determined to fill up this rabbit as soon as possible. Ha! Last night, it was 2 twenty cents. The day before was a 50 cents. Mum was so surprise that I can work so hard for money in this age. But, I really enjoyed making my own money.

Keep it up, honey. I am sure one day you will get your Ferrari. Ha! Most importantly, this is an awesome way for you to learn how to save and work hard for your living. Thanks to Auntie Jen and this cute big rabbit coin box.