Posted by Everyday Healy on August 7, 2010
 Last Monday, that was my first time in a dental clinic.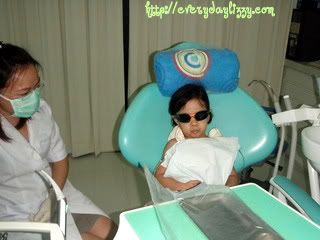 I did not bring along my sunglasses. I was provided with this cool sunglasses once I get up on the chair. Cool! 😛

Always need to open my mouth big. Kind of tiring. But don't worry. You will have my full cooperation.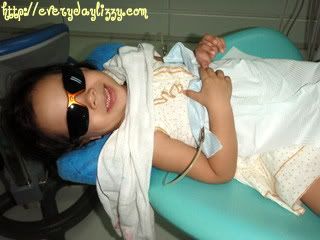 Mmm! I am sure my teeth look really nice now, right? 😉
Liz:"Tell daddy I am very good girl when daddy come home tonight, ok?" Hahahaha……
I love lady doctor. The doctor is very friendly. I like to talk to her. She is very professional too. She helped me to clean my teeth and fill up the holes or cavities for 2 of my teeth. It's a great experience! I love it! 😛
And, I understand from the doctor that I need to brush my teeth every night too especially after I finished my milk. Thus, I just did what she said. Mummy was so pleased. But, mummy said I have to go back to the clinic again as there are more holes on my other teeth to be filled. LOL!
Mummy absolutely have to mark this special moment down before I forget. You are exceptionally brave. I thought you will cry especially when you hear the kind of drill sounds. But, you just take it easy. Impressive! Mummy is so proud of you, baby. :POf course, thanks to aunty Dora's fantastic recommendation. This clinic is simply great for kids. 😛