Posted by Everyday Healy on November 30, 2009
Last Friday……
Mummy:"Liz, later mummy bring you to meet a "jie jie" in a hotel. You make new friend and play with "jie jie", ok?
Liz:"No……I stay with daddy, you go, ok?"
Mummy:" You can go swimming too. Want?"
Liz:" No……"
Mummy:"Er… How about I bring you to see baby? You like baby, isn't it? You can play with 2 babies there, want to join me?"
Liz:" Ok."
So we went to Gurney Hotel at 5pm after we finished visiting your favourite pet shop. You were a bit shy initially. But, you were happily playing with the 2 babies after a while. Actually, they are not babies anymore. They already 17 months old. Hehe……
Then, we went to the pool to meet up with Qiqi  and his daddy. You just can't wait to get into the pool once you see the water slides. Yes! You can get wet, as you still have spare clothes. But not mummy.
Liz:"Mummy please go in with me."
Mummy:"Sorry, baby. I can't."
You were sitting beside the pool for quite a long time. Keep nagging about wanted daddy to play the slide together with you. Unfortunately, daddy was not with us at that time.

Mummy:"How about you let uncle slide down together with you? Let uncle take care of you, ok?"
You quickly nod your head once you heard this suggestion. On the spot, mummy quickly bought a float for you. Then, you started enjoying yourself with "jie jie" and her dad.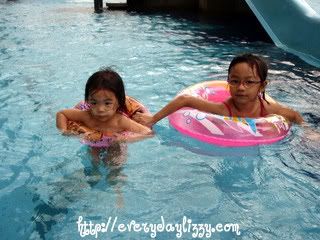 Wow! This is the first time you were not afraid of strangers. Thanks to the slide. And, Qiqi's daddy was such a nice uncle. He just keep sliding with you upon your request. Daddy are you jealous? Hahahaha….. Mummy was so grateful. Luckily, you did say thank you uncle before we leave. 😉
As mummy went back to the hotel again later at night just to pass something to Auntie Chinnee, you were shouting aloud that you want to go down with me this time. 😛