Posted by Everyday Healy on March 25, 2008
Elizabeth was so excited and was jumping for joy, dancing and shouting happily when she get the chance to join the party at the end of the annual dinner. At first, she had to stay in the hotel room with the maid while mummy and daddy were attending this grand company dinner which kids are not allowed.
Then, daddy finally decided to bring her into the grand ballroom for an experience at the end of the dinner, which only left party session. Once my little princess was there, no one was allowed to carry her. She preferred to run around, playing with the balloons on the floor, dancing and laughing.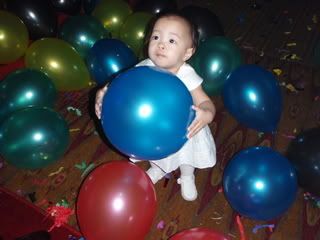 There are so many balloons on the floor, mummy. Can you help me to pick up all of them? 😯
Elizabeth really likes Balloon. Mummy promises to includes fanciful balloon decorations for her 2nd birthday and even her future wedding too. I guess when mummy's girl is getting married, then there will not only balloon decorations. Mummy prefers personalized wedding favors. I want most of the things to be personalized as I want my little princess to have an unforgettable wedding party since it is an once in a lifetime affair. 😉
Anyway, mummy is so happy to see my girl knows how to enjoy partying now. The loud music can only cheers her up but can never scares her. That's amazing! Bravo! Mummy and daddy is kind of proud and surprise! 😛