Posted by Everyday Healy on March 26, 2008
Elizabeth likes to eat biscuits. However, mummy has no idea weather she loves cookies or not? As daddy brought back the big chocolate hamper from KL, Elizabeth just keep aiming at the Famous Amos home made cookies.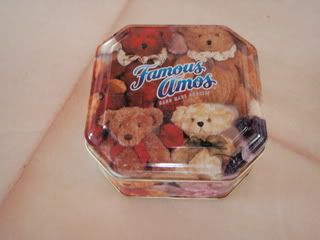 Cute and lovely! Such a perfect gift for kids! 😛
However, until today mummy did not open the cookies for her to try. Mummy suspects she is only interested with the small squarish packaging box. It's full of teddies. And, Elizabeth always get very excited once she saw anything with teddy bears.
In fact, mummy is the one who is interested in the cookies. After all, it's Famous Amos! 😉