Posted by Everyday Healy on March 26, 2008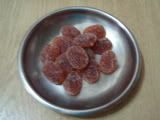 Mummy has mentioned about Elizabeth taking Ribena pastilles a few times here. However, mummy istrying my best to avoid it actually. As mummy find Ribena pastilles is like rubber when we chew it in our mouth. Mummy is afraid that indigestible.
May be mummy should check on her "Pooh Pooh" next time when she took Ribena pastilles. As we can clearly see anything which is indigestible appear in the baby's "Pooh Pooh" as a whole.
On the other hand, mummy really don't like the coating of sugar on each and every piece of the Ribena pastilles. That is quite unhealthy. In fact, research in the US has shown that eating too much of candy or anything which is sweet can cause our baby to be super active.