Posted by Everyday Healy on April 13, 2008
Yesterday, Elizabeth was playing at the playground in Gurney Plaza again. Mummy has yet to show you how much she loves that playground. However, mummy just can't wait to show you how much daddy has sacrifies for his girl.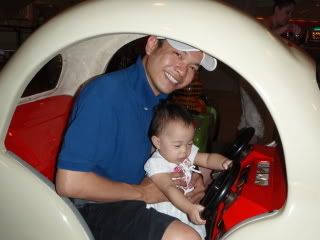 Mummy really got to "kow tow" to daddy. It's quite impossible for an adult to sqeeze in that tiny little "Taxi". But, he just did it! Cute daddy! 😆
I can see that daddy really made a great effort to spend time with his girl. We love you, daddy!