Posted by Everyday Healy on May 3, 2008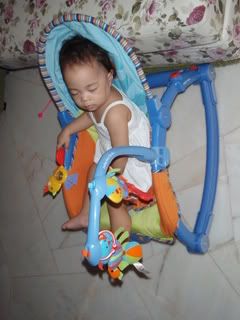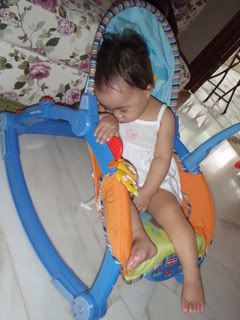 Elizabeth nowadays can fall asleep on her rocking chair. She will lay down in her chair comfortably while drinking milk and water too. I guess she really likes her chair now. 😛
At least, she has a proper chair to rest on while watching TV. It will certainly safe her from becoming hunch back. However, will she become lazy to move around after too content to the comfort of sitting down?
Mummy want you to exercise more, girl! As mummy can't even carry her for more than 20 minutes now. In fact, mummy likes to carry Elizabeth. But, my hands just not strong enough to sustain her weight anymore.

May be Elizabeth should join mummy and granny to use the exercise machines such as the ellipticals. Since granny already decided to buy one of the machines, so that all of us in the family can exercise at home conveniently.
Once baby Elizabeth lost weight, may be mummy can carry her longer. 😛