Posted by Everyday Healy on May 7, 2008
Elizabeth can be very picky sometimes. Mummy don't want her to eat only biscuits, fish balls and plain rice everyday. Luckily, she will accept some of the new food that mummy introduced to her.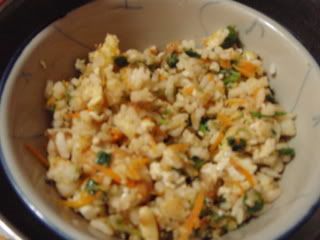 As she likes "Bojari rice" so much, mummy actually made her fried rice. The fried rice includes egg, carrot, garlic, parsley, and soya source. It's fragrance! It's so yummy to mummy. Unfortunately, she don't really like it.

Too bad that mummy just don't know how to make "Bojari Rice". Frankly, toddler seems have very different taste from adults. Anyway, there is nothing wrong. As even among adults, we have our own preference and favoritism too. 😛
Somehow, it seems mummy need more ideas to create some new recipes for naughty Elizabeth.