Posted by Everyday Healy on May 12, 2008
Wonder what have we done in this past Mother's Day? As my FIL had to come to Penang to attend a Malay friend's wedding, we decided to spend time together on this special day.
So, both my parents in law came to our place together with my 2 little niece and nephew. As usual, we ladies (my MIL, my mum and me) were talking. The children were playing on their own. It's good to see them playing together as they seldom meet. 😛
And, looks like little Elizabeth has learned to fight for own rights now! LOL!
Don't aim my baby, please… It's mine! 😯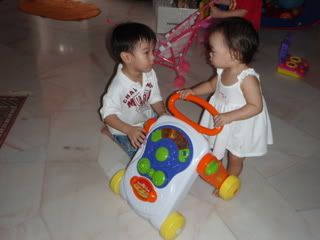 This is mine! But, I want to play, please… Oh! Poor Justin "Koko".

Oh, I better quickly grab it and run away! So lucky! Elizabeth never come after me. 😛
As hubby finally came back from appointment, then we went out for dinner. So, there are 3 mothers together celebrating this simple mother's day with the 3 little toddlers and 2 daddies. 😛