Posted by Everyday Healy on May 13, 2008
Elizabeth went to see her paed for another booster this afternoon. As usual, next month there is still another injection. It just never ends, even after thousands have been spent on injections.

We are late for the appointment.  Dr. Sim has went out for lunch. Thus, we were waiting outside the clinic for about an hour. Mummy was boring. I should have bring my magazine along.
But, Elizabeth can never be disappointed. She likes this place as it is basically a mini playground. There are slides and other toys for her to play with. Thus, Elizabeth did enjoy herself! 😛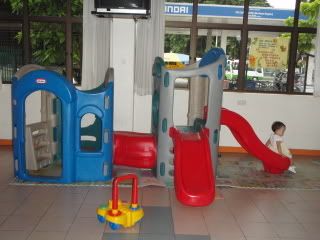 Frankly, it is best to find a clinic or hospital with toys or playground when you first decided on your baby's paediatrician.