Posted by Everyday Healy on May 14, 2008
Elizabeth is sick today. She has been injected with a booster yesterday. Now, she got fever. Will it be the injection which caused the fever? Or may be it some other reason? Anyway, her body temperature was 38.5 degree at about 6pm.
Now, it has gone down to normal body temperature after mummy gave her this.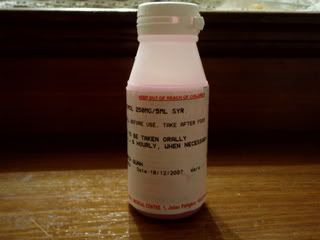 This is the fever medicine prescribed by her paed. It is actually paracetamol. And, mummy will reserves some extra in the fridge all the time for emergency purpose. Hopefully, Elizabeth will have no more fever later tonight. Somehow, mummy will still watch her closely.