Posted by Everyday Healy on May 14, 2008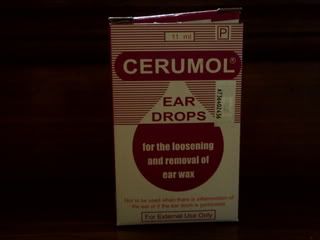 Elizabeth paed recommend me the " Cerumol" after he checked both Elizabeth's ears. They are both full of ear wax. Since, mummy can hardly remove the ear wax for Elizabeth, mummy certainly appreciate the help of this ear wax remover.
It seems this is the most common (almost the one and only one) ear wax remover that best used to remove the kids hardening and accumulating ear wax. Elizabeth just tried once. According to her paed, Mummy is supposed to put 2 times a day, each time 4 drops for a period of 5 days to fully remove the ear wax stuck in her ears.
Ear wax is not supposed to be accumulated in the ear of our baby as it will eventually block the ear and caused hearing problem. As usual, when something is blocking the air way of our ears, we just can't hear clearly anymore.