Posted by Everyday Healy on May 18, 2008
Mummy likes Japanese food. In fact, the whole family like Japanese food. Thus, as mummy, granny, Uncle Bill, and Elizabeth went to the bus station to pick up granny's sister who is from Ipoh, we decided to drop by Sake Sushi Restaurant. We missed the "Ramen".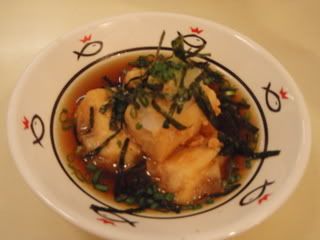 Agetashi Tofu
Baby Elizabeth used to take "Agetashi Tofu" (Fried Tofu) while having Japanese meal. Surprisingly, she rejected the tofu immediately after she swallowed the first spoon of "Teriyaki Ramen". Obviously, Elizabeth becomes another fans of the Sake Sushi Restaurant's "Ramen".
I guess the Tofu is nice. But, the "Ramen" is simply nicer. Is mummy right, my dear? 😛