Posted by Everyday Healy on May 27, 2008
After came back from Gurney Plaza, mummy quickly dressed her up getting her ready to attend a wedding dinner together with mummy and daddy once we reached home. Little Elizabeth was hunger for milk. She lied on her rocking chair while drinking the milk.
Immediately, she was asleep. 😯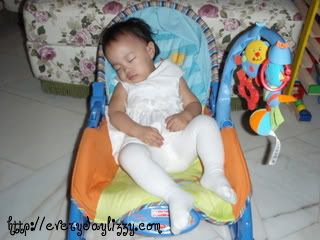 Wow… I don't remember she had such beautiful pajamas?
My maid carried her at the back seat of the car. She was still sleeping in all the way to the hotel. Once we stepped down from the car, her big eyes start blinking. Great! She was awake again. 😛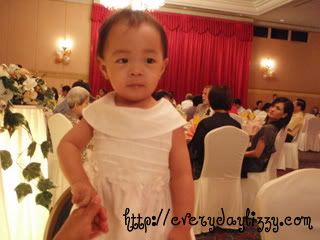 Oh! Such a nice place. I like it! Er… Where is this place actually? 😯
That night, Elizabeth really enjoyed herself playing with balloons, clapped together with all the guests, running at the corridor, dancing on the red carpet, drinking fruit punch in the big wine glass and keep heating daddy and the maid when she don't get what she wants. OMG! *Slap forehead*

Wow! I found my favorite! The stairs… I better be quick! Daddy is going to block me anytime. 😛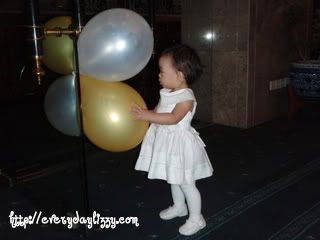 I prefer gold. But, how am I going to take it out?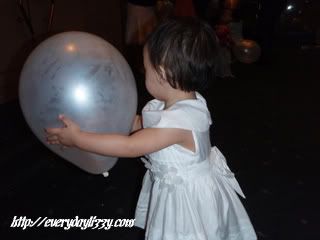 That's what I get. Never mind. White is just nice to match my beautiful dress. 😛
She was the one who pulled out all the balloons by the stairs holder. Should mummy be proud or ashame? Somehow, all the kids there have fun with the balloons she pulled out. She took the lead and everyone was happy. Mummy should be proud, right? hahaha…