Posted by Everyday Healy on June 3, 2008
Yesterday, Elizabeth had slight fever. Luckily she is alright now. No medicine. Mummy just let her drink more water. And, keep monitoring her with the useful Liquid Crystal Forehead Reusable Thermometer.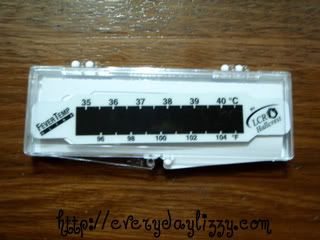 I bought this to try after I break part of the old expensive infra red thermometer. In my opinion, this is so much better than the infra red digital thermometer. It is unbreakable and provides fast and accurate results too. It is also space saving in terms of storage and very cheap (About RM 8).
Regarding baby fever, medication is not necessary if it is not high fever ( > 39 degree). It is helpful if mummy keep swapping her body. But since it is only 37.5 degree, lazy mummy just ask baby Elizabeth to drink more water. LOL!