Posted by Everyday Healy on June 14, 2008
It's Saturday again. Daddy and mummy will surely plan something and get out together with our little princess every weekends, be it Saturday, Sunday or both. hehe…
But, Elizabeth seems enjoyed this Friday night too. Last night, we were at Golden Sand Resort. At first, she were quite clingy and shy. So, mummy and daddy were quite disappointed. We thought may be this place is not her cup of tea.

Later, she did keep herself busy with the stairs.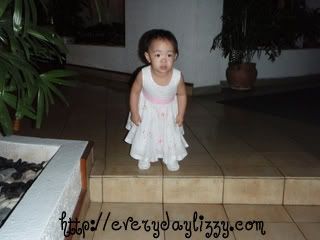 Ultimately, She even dance along with the music in the middle of the crowd. 😯
Oh, I love parties! More party invitations, please!

Lovely! So, that's our girl! Active! Joyful! And, just can't stop dancing! 😛