Posted by Everyday Healy on June 19, 2008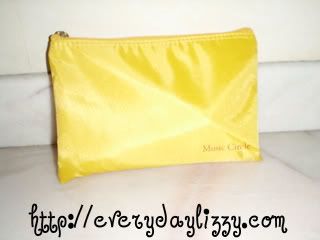 Can you imagine that this small yellow bag actually costs mummy RM 120 (About 40 USD)? I will show you what's in it that makes it so expensive.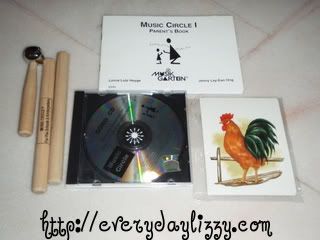 These are all the things inside this yellow bag. They are the tools for "Music Circle". Elizabeth got it once she started attending her Music Circle last week. As you can see, there are CD, rhythm sticks, jingle and parent's guide book. So, it seems that these simple wooden instruments are more expensive than the latest memory stick? 😯
Don't feel shock. Mummy is just kidding. The cost of RM120 actually includes 4 separate packets like this. Each consist of different simple instrument, parent's guide book and a CD. This is just the first pack. Which means it's about RM30 each. That's reasonable. 😛
Anyway, Elizabeth enjoyed the music and just keep dancing on her own way like what she did in the trial class. She can hardly sit down and learn. Surprisingly, she can remember some of the things that been taught in the trial class and start performing according to the syllabus during her first lesson.
Mummy is confidant that there will be improvement for the next lesson.