Posted by Everyday Healy on June 24, 2008
Now, I no longer need baby chair. I have grown up. I want to sit on the same chair as mummy and daddy. I promise I will behave. 😛
Oh! How nice if little Elizabeth can make such a promise! Hahaha…
Somehow, this little naughty actually will sit down quietly if we placed her on the normal chair. Daddy will always stack 2 chairs together to make it higher. It's just nice for Elizabeth to reach the table.
Besides, there is a trick. At the same time we can give her an empty bowl with spoon or empty cup with straw. So that she can play with them. She enjoys playing pretend. She will act as she is drinking or eating. If this trick is not good enough, then we will put some plain rice in the bowl or plain water in the cup for her. This normally work so well.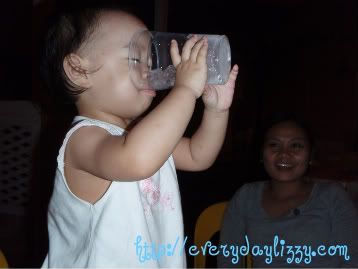 If it doesn't work, then just let her down. Hahaha… Luckily I have Fia to take care of her.
Frankly, having a maid is really the best solution to get peace of mind as we have baby. LOL!
Sometimes, Elizabeth is very polite. She likes to clean the table for us too! 😆