Posted by Everyday Healy on August 4, 2008
This is the first time Elizabeth has cough. It's always paracetamol when she got fever. Then, Piriton will be use for runny nose. How about cough then?
Dr. Sim Prescribed the "Rhinathiol" for her. Hopefully it can help to clear her flam.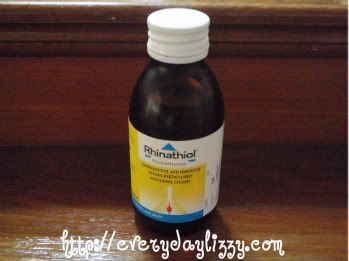 Besides, mummy starts giving her "Lou Han Guo" with rock sugar cooling tea which keeps our lungs healthy. In this case, it can also clear the flam in her lungs. Anyway, I think she got such throat infection because of the haze. And, It's mummy's fault too as I still let her took ice cream yesterday. By right, she should drink more warm water to speed up recovery. Taking ice will certainly let the situation get worse. So sorry, baby!

Anyway, mummy always feel alternative medicines is more effective in terms of curing "cough".