Posted by Everyday Healy on August 22, 2008
Finally, daddy is home. Liz was waving hard and smiling sweet once she saw daddy walking out from the arrival hall in the airport on Wednesday. And, daddy carried her straight away when he came to little Lizzy.
Then, he passed a big box to Liz in the car which was already holding in his hand since he came down from the plain. Liz said: "Wow!", when she first looked at the box.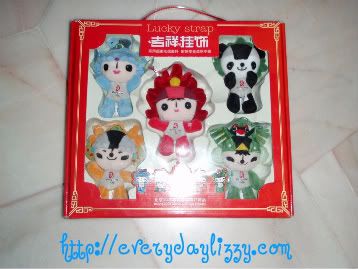 Wow… Daddy get you 5 beautiful dolls! 😛
These five are absolutely very famous now. And, these five Olympic "Fu Wa" — lucky doll has become Liz new friends now. Anyway, they are not just toys, they are fantastic collection. And, Liz always loves soft toys. Thus, these dolls really make her smile. You are lucky, baby! Cause your daddy knows you well.