Posted by Everyday Healy on August 24, 2008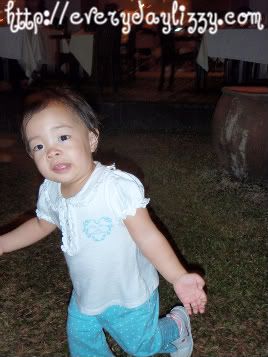 Run! Run! Run! Cheez… Nice post? Hahaha……
Lizzy missed her music class again this morning. She was sick since late last night. Poor girl! Not again! Somehow I am glad she did enjoy herself at Park Royal Hotel. We had buffet dinner there. Nice environment! Wide and big space! That's Liz's favorite!
Somehow, she was not quite eating. She just loves to run around on the big field right in front of the restaurant. Mummy and daddy was invited to join the running. We took turns. It's quite torturing to run about when we were so full. But, for our precious little Liz, anything is fine. 😛
Now mummy just wish that she could get well soon. God bless Liz!