Posted by Everyday Healy on September 4, 2008
Mummy is supposed to blog about Elizabeth's 3 other new dresses. But, I should blog about one precious gift before I forget. Daddy bought it for little Liz while he was in Beijing.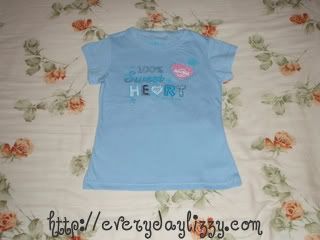 Yeah… Hard Rock! But, it's a little big for my lovely little sweet heart. Nothing to worry though. She is growing fast. By the way, this is her second piece of Hard Rock T shirts. The first one was from Egypt.
But, this baby blue baby T is absolutely prettier than the one from Egypt. Lovely! I also like the wording, "100% Hard Rock Sweet Heart". Fantastic in describing my girl. Good taste, daddy! 😉