Posted by Everyday Healy on September 5, 2008
Since July, little Liz always get sick. Frankly, that's uneasy for mummy. So, mummy finally decided to let her take some health supplements. I am still wondering what's best for Liz. Somehow, I started with VIDAYLIN MINIBEAR. As Liz dislike Appeton and Seven Seas.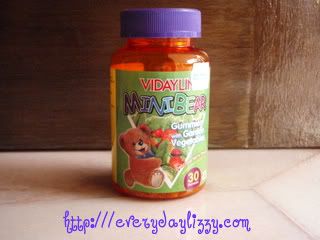 Liz loves bears. So, each day one bear.  But, the mini bear gummies is actually for those above 2 years old. It's true that Elizabeth just can't swallow it as a whole. So, how about cutting it into 4 little pieces? That's just nice. 😛
Little Elizabeth like it so much! Yum yum! In fact, mummy chose it for 2 major reasons. Firstly, it is imported from Germany. Mummy simply trust the technology and quality in Germany more than those produced locally.
Secondly, it's yummy taste guaranteed. I think taste is very important for toddlers. Be it good or bad, kids only eat the delicious one. By the way, these gummies includes the goodness of spinach, carrot, tomato, beetroot and artichoke. And, Liz is taking the one which is only enriched with vitamin C, not multivitamins.
She started taking it about 2 weeks ago. Since then, she will mostly "poop" more than twice each day.  Sometimes, 3 times. LOL! And, only fine discharge. Absolutely no diarrhea.