Posted by Everyday Healy on September 11, 2008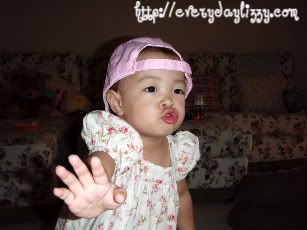 Hey, man! This is Hip Hop! Cool, aye? Oh! Yeah… Hahahaha…
That's her new cap from SODA KIDS. Mummy finally found one cap for little Elizabeth which quite suits a little girl like her. So, let's go out together for some outdoor team sports! But, may be you should change your dress first. Wrong matching. Hahaha……
Anyway, look at this girl! She likes cap. But, you can never see her put it on when she is out. She just like to wear it at home. LOL!
Daddy always said: "My girl is also my boy." Huh? I think he is absolutely right. As we have a very vain yet sporty baby. She loves to run. Always jumping and climbing high and low. Crazy over playing basketball, football and plastic balls. Ha! And, full of energy all the time. That's why she need a cap! 😛
Anyway, I can see that she will surely join some sports games when she grow up. But, how about cheerleading? You like dancing, don't you? Mummy can get you some pom poms now if you want, so that you can start practicing now. Fun, aye?

"Who will be the coach, Mi?"
"Just Mi and D."
"But, you people knows nothing about cheerleading!"
"Ops! May be we can start with some simple actions, you know… like jumping, twisting your waist, nodding your head, and swinging the pom poms first?" Hahahahaha…
Silly mummy! *Slap Slap, right and left*