Posted by Everyday Healy on September 12, 2008
It's Friday again. Tomorrow we have a wedding dinner to attend. Mummy dressed you up nicely, k? So, you should be happy with the program for this weekend. In fact, little Elizabeth keep asking mummy to bring her out these 2 days.
As a result, mummy brought her to Tesco yesterday. She was dancing in front of the "Artist Gallery" immediately after she heard the music playing in it. Cute! But, she stopped before mummy managed to video it. LOL! And, it's quite easy to take care of her as she seems enjoy sitting in the shopping cart. 😛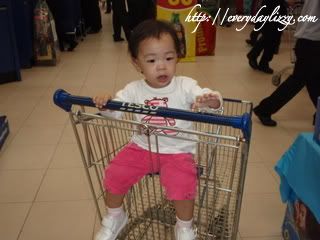 Of course, there is always something new for her after shopping. Be it food or toys. She got a big bucket of "Cadbury Bites". That's her favorite junk. And, 2 small red cars, 1 small red and 1 tiny red helicopter in a set. All red. As her music circle lesson on this coming Sunday need a red car.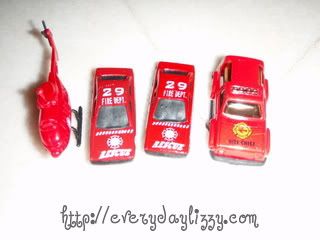 Obviously, she has lost her helicopter wings in just one day. OMG!