Posted by Everyday Healy on July 6, 2007
Look at this girl. I think She was out of my blog sphere for almost a week. Do you miss her? Here she is! Just have a look at how this naughty girl showed her piggy face…. Sometimes , I felt God really loves me so much by sending such a lovely girl to my life!
Today, Elizabeth is already 7th months and 2 days old. And, She is growing up so fast now, not in terms of her physical, but in term of her Intelligence. She can response to a lot of things now. And, She start to learn up things that being taught by anyone of the family member. For instance, my mum used to teach her how to do "I am Elizabeth"by showing her, how to place her hand on her chest and slightly tapping her hand on it, indicating " I am Elizabeth". However, for the past two weeks, her response was only smile, every time she heard of "I am Elizabeth." Yet, did nothing.
However," there can be miracle, when you believe." Guess what miracle is it? She woke up early in the morning in 3rd of July, and keep smiling happily as usual. Then, all of the sudden, she starred at me and start to tap her chest with her hand. She repeated this action for twice, then, I start to get her. So, I say " I am Elizabeth" loud and clear. Immediately she smile and hopping excitedly. She seems so proud that she has made it finally. 😛
And, this is how mummy praise her, "Ya, clever girl! That's right! I– am– Elizabeth! That's right! Good Job! Mummy is so proud of you, baby."
Now, She do it almost every morning. Sometimes show it to me, sometimes to my mum or my granny, I guess she just enjoy doing it. May be she understands that She had been praised for doing it! 😉 ( What a proud lady!hehe……)
Also, there are lots of facial expressions for her now. And, all those funny and chicky sounds started to come out from her mouth. And, She is super duper playful now. But, the main point is, she learns how to play on herself, talk to herself and know how to flip her book on her own too. Check this out! I love it!

See, she talks and play on her own now….

And, She can even flips her books…..
See…..She learned how to get up from her sitting position now by kneeling …..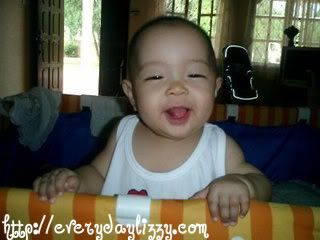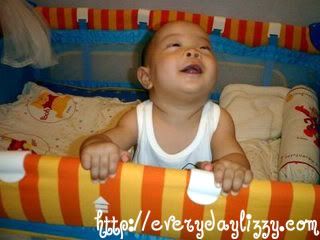 Also, do you realized she really like to smile? That's because she enjoys taking photos (since her 5th months). Mummy kind of proud!
It's such a wonders to see her growing up…… And, all her positive developments truly pays off all my effort and love. By now, I am so glad I chose to be a SAHM.