Posted by Everyday Healy on September 22, 2008
This past Saturday and Sunday was a long weekend. Why? Cause Elizabeth was sick again! Mummy was so upset. As usual, we will hope that the bad things will past us by real soon. The bad news is… Her fever is still quite high! 😥
She was having very high fever and shivering terribly yesterday midnight. Luckily, mummy still have 1 spare Diclofenac Sodium which mummy used to push into her rectum to stop her fever.
Thanks God. It works. This morning, mummy quickly sent her to her paediatrician. Dr. Sim said it's throat ulcer. That's why she stop drinking water. And, the high fever is supposed to cause by bacteria infection. Obviously, little Elizabeth need antibiotic injection. She cried while injected. Poor girl! As there is another injection tomorrow.

Well, at least she starts drinking water again today.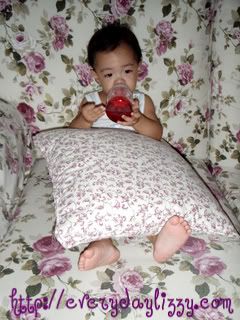 That's right! Keep drinking… Just concentrate more on the TV. Mummy and granny will keep playing with you too. So that you can forgot about your sore throat and drink more water. That's all mummy asked for. Love you, baby!
And, don't worry. You will be back to normal and full of strength again in no time.