Posted by Everyday Healy on September 26, 2008
This morning, she said: "No", when she is asked to get out from the bathtub. Instead, she wants mummy to get in there. But, It's not my time to bathe yet. So? Don't worry, a simple trick might work.

Let go of the water. As the bathtub almost dry up, little Elizabeth is calling mummy to carry her up. It works! Hahaha…… Just show them a few times of the sequences on how we should bathe. From getting wet, putting soap, draining the water, bringing them the towel, dry them up and dress up. They will get it real soon! 😛
And, she is simply lovely when she willing let mummy wraps her up with her towel.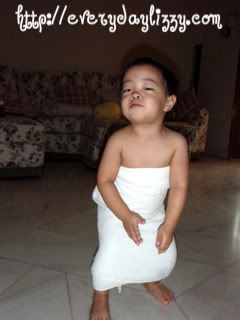 How about that?
Great post! But, it's going to drop anytime!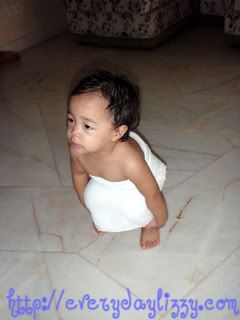 Ops…
This is even worse! You will know what exactly I mean when you stands up, baby! Haha……