Posted by Everyday Healy on September 26, 2008
Many blogger mummies are preparing very nice Bento for their kids. These kiddie meals has bears, flowers, octopus in it. I love them all! Elizabeth might not need Bento now, as she is not going to school. But, mummy can still prepare lovely cartoon meals at home for this little princess.
So, we were out in Gurney Plaza last night searching for some Bento gadgets. Thanks to daddy for being so thoughtful! Daddy actually take us together to Gurney while he is having work appointments there. Mummy appreciates it so much!
Thus, I promised myself I am going to create something nice for Elizabeth and to show daddy. TaaDaa…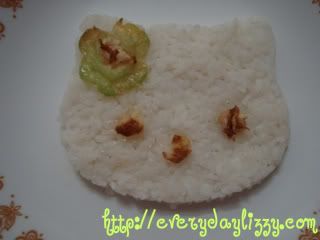 Hello Kitty Rice! With pieces of fried egg as eyes and nose. And, the bitter gout as flower by the ear. Not bad, aye? 😛
But, as it was ready, my little princess already fall a sleep for her afternoon nap.

At first, it was a whole fried egg like this…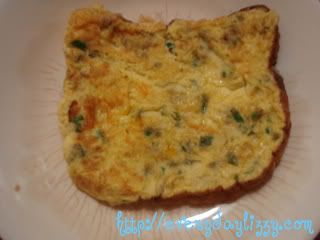 But, no eyes, no nose and no flower cause no seaweed or anything else with sharper color. So, I tried on rice. Looks like the Hello Kitty non stick frying pan (only RM12.90) can be quite useful!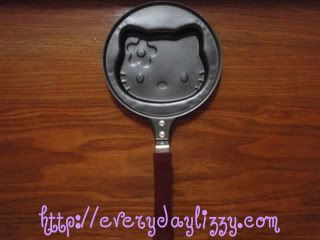 Now, I realized that I need much more gadget to make a nice Bento. Never mind. I can slowly collect them one by one. Now, I will have to gather more pizza, cake and cookie recipes. Suddenly, I am so dedicated to get a bigger oven and start baking and cooking too!
I feel like I am a wonderful mother by preparing nice food for my little princess! 😉