Posted by Everyday Healy on September 29, 2008
It's Monday again. But, It seems not a boring Monday for Elizabeth. She was happily woke up, bathe, taking her lunch, playing hide and seek and now she is laughing at the Little Einstein Cartoon Show. Mummy is glad you are happy.
At least, this little baby won't mess up the house. Hahaha……
Look what she have done when she was bored!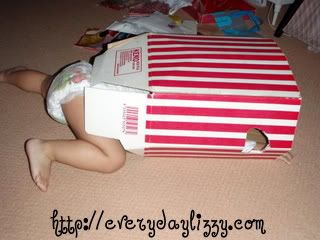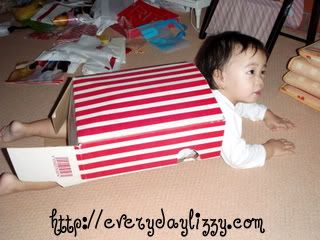 This is the box which mummy keep nice plastic or paper bags for daily use. So, the bags will have to be all over the floor before she can get in there. When she was out, then she took out all the books from the bookshelves  one by one, and squeezed them into the box instead of putting back all the paper and plastic bags!
Elizabeth!!!!!!:shock: