Posted by Everyday Healy on September 30, 2008
Today, mummy did not prepare cuttie meal for little Elizabeth. But, look at what she ate for dinner last night…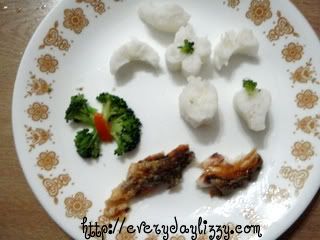 Nice? Still rice! But, rice in tiny moon, flower, apple, mango and chili shapes. And, a "butterfly" by the side which I made up from fried Broccoli and steam tomato. I know! It looks more like flower! LOL!
Anyway, I thought she likes butterfly. Still, she split out the broccoli, never take the tomato, but finished up the fish very quickly. I don't even have time to tell her that the pieces of fish meat is a "Dolphin". Er… I supposed it looks like Dolphin, doesn't it? Hahahaha……
End up, I have to add in a lot more fish and rice, but take out the vegetables. Also, I don't expect her to give me any response, if I put the Hydroxycut hardcore right in front of her. As she has still not come to the age of getting excited with the weight lose products. Only when she become a lady! 😛
But, it's so sad that she doesn't even show any encouraging response when I bring this "Bento" to her. That's something I don't expect. What a good work I have did!