Posted by Everyday Healy on October 4, 2008
Yeah… Just wait patiently for another 2 months for your birthday party, k? Now, just keep eating fish and pears. Mummy is glad you love them so much now. They are good for your health. 😛
And, you have grown to be so so so Chicky! And, extremely playful. You learned to bully daddy. Slap him! Kick him! Beat him! Scratch him! Pinch him! I know you don't do that to mummy. But, you stop calling "Mi" 2 days ago. Why you keep teasing mummy by addressing me as "Mmm…"? Say sorry, Elizabeth! 😯
I know, I know! You learn lots of words. You can even talk in some simply sentences . And, you even start singing. Singing with no words can be heard yet. Hahaha…… It's ok. Mummy appreciates your effort. Ya! Ya! One more thing. Stickers, right? Regarding this matter… Please stick your stickers on your sticker book, not your shirts, pants, hands, and face.
Worst still, don't stick them all together! That will ruin all the stickers! *Shouting*
LOL! Mi…. Why you shot so near? That will make my already big head looks even bigger. Oh No! 
Ops! So sorry, Baby! I will keep some distance now. I promise!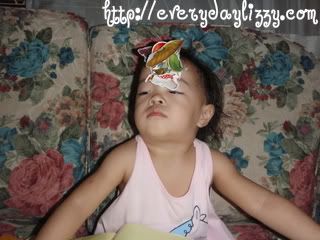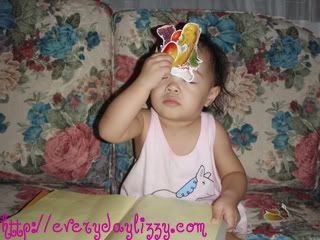 So you think that's fun? Anyway, it's funny for mummy! Hahahaha…… Enjoy yourself, baby! Just not for mummy. The gum of these stickers might cause sensitivity to my skin. I don't want to spend so much on acne treatment or allergy again! Hehe…