Posted by Everyday Healy on October 10, 2008
It's Friday again. Last Saturday, we were at the Siamese Temple before we went to the beach and Toy Museum. Why temple? Cause little Elizabeth likes to pray. Want to look at how little Elizabeth pray?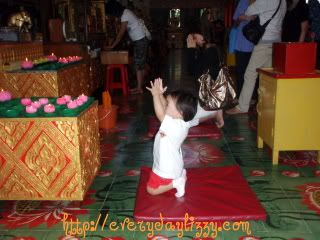 How about that? For mummy and daddy, that's very cute! 😛
In fact, she will pray whenever she saw a temple by the roadside. She knew that months ago. I wondered how she recognized it as temple. She just did it. It's quite amazing!
By the way, She also pray when she saw anything burning, either fire or smoke. Thus, baby Elizabeth actually raised her hand high up and started to pray to all the candles that mummy lighted up when our house was out of electricity on Tuesday night. Hahahaha……. That's what I called "lovely". 😉
I think this weekend should be "Poh Poh and Gong Gong" house. No more toy museum, temples or seaside.  Are you happy, Elizabeth? I think you miss "Gong Gong" so much, right?