Posted by Everyday Healy on October 8, 2008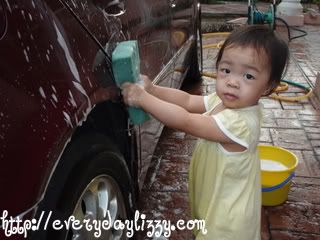 Thank you, Elizabeth. Thanks for helping daddy to wash the car. Oh! Thank you too, daddy. For giving me a chance to play with bubbles and water. Hahaha……
It happened most of the weekend. She loves it! Daddy loves it! Mummy likes it too! Because it is a great way to loose some pounds? Nope! Our maid often wash the car for us too. It seems she still need diet pills! LOL!
It's a working together and being together moment for mummy. Wonderful! I guess daddy and baby should be feeling the same way too. 😛
Look at my baby… She can help on car wash now! She even likes to help in sweeping or moping the floor. Sometimes, she try to wash her own clothes while she was bathing in the bathroom. How about that? LOL!