Posted by Everyday Healy on October 9, 2008
Yesterday night, I suddenly crave for ice cream as I saw them in one of the recipes book. Moreover, I want to try the ice cream in cone. I saw them in "Barney and friends" and some other kids shows. Looks yummy!
So, I bring the book to mummy and pointed only to the ice cream in cone. I want to explain my idea in detail. Somehow, mummy quickly answered: "You want cone type ice cream?" Oh! Thanks mum. Thank you for understanding me. She knows. She saw me pointed to them while I was watching kids show. 😛
So, daddy drives us out to buy some ice cream. First, daddy let me try the ice cream in cup. But, I want the cone ice cream on uncle Bill's hand! 😯
Alright! That's yours. "Uncle Bill, just get another one."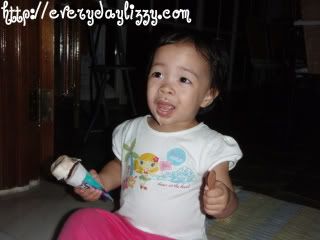 Oh! you've stained your mouth. May be you should use the spatula. 😛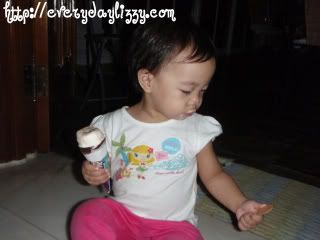 This is a spatula?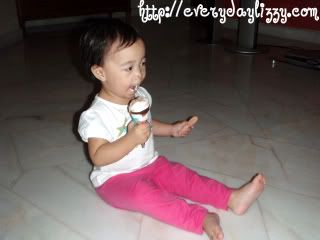 Mmm…… I don't mind the stain on my mouth. Yum! Yum! "But, mummy mind it!"

Also, can I try the other one in stick too? Oh! Uncle Bill! May be we can share this time? 😛
Again! It's the one on uncle Bill's hand! Hahaha……