Posted by Everyday Healy on October 15, 2008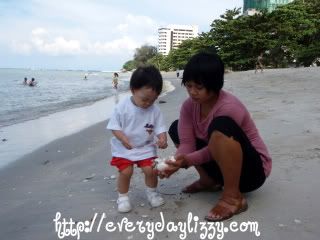 What's this? Can I have some, "kakak" ?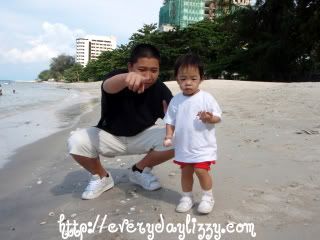 That bottle! Can you pick up for me, uncle Bill? I don't like to walk! Hahaha…….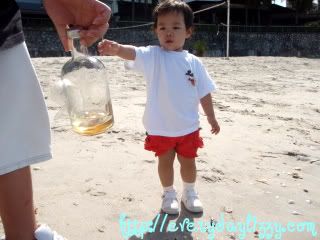 Give me? Er… your mum said it's dirty! So… No! Oh… Give it to me! *Almost weeping* 
Oh! She is sporty! She is so cute! I know what you are going to say. "She looks exactly like a boy in short and shirt. " I know! But, it's still cute, right? Hahaha……
At this age, if daddy is the fans of Hard Rock T, baby got to wear Hard Rock baby T. She will be wearing Festina watches too, if it's one of mummy's collection. And, it's not a problem at all.  She is glad to have things like mummy and daddy. As she is at her Imitation age! 😛
By the way, these photos were taken 2 weeks ago. Mummy is thinking may be we can get back to this beach behind Tanjung Bungah Hotel real soon. I like the seashells there. So many species. What do you think, baby?
Mummy is glad baby Elizabeth no longer afraid of the sand. At least she is willing to get down and running around the beach with her shoes on. Good start! 😉