Posted by Everyday Healy on November 7, 2008
Mummy feels so sorry for stop writing. So sorry that part of your story gone missing, my dear. Mummy will continue your story now. May be I will miss out some parts from time to time, but I will never stop writing until you can continue your story by your own. How about that? Ok? hehe……
Anyway, this is what she got yesterday night. Daddy immediately took us out to Starbucks right after he reached home from work. He mentioned about a beautiful bear sold in Starbucks before. Last night, he said: " I want to get that bear for Elizabeth. Let's go!" Huh? Since when a macho man cares about teddy bears, instead of cars, PDA, Hi Fi or home theater furniture? 😯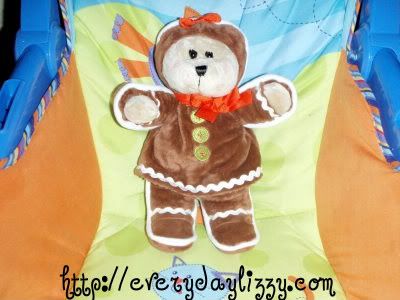 This is the one that makes daddy so excited. A cutie bear with reindeer coat. It's Christmas special edition. There is male and female. Mummy like the female bear so much. Cause it has rosy chicks. So lovely! 😛
So, more bears. Almost no more space to store.
Grandma said: "Not again!"
Our maid said: " It's so expensive!"
I said: "It's better to be books."
But, daddy said: "She likes bears. So, I help her to make her collection."
Then, mummy replied in my heart: "Thank you, daddy."
Elizabeth, you are so lucky to have your dad as he really cares about your happiness. Your immediate enjoyment. Whereas, Mummy always think about her future. I think that's just nice, isn't it? You got all your present and future well taken care of then. Hahahaha…….