Posted by Everyday Healy on November 9, 2008
She misses "Gong Gong" and Poh Poh" so much, especially "Gong Gong". She keep calling for them. However, my FIL got to work until 10 pm tonight. So, we canceled the plan to "Poh Poh" house. Now, both father and daughter were having sweet dreams.
I am sure later we will have somewhere to go. At the moment, mummy just want to write a few words and put up the lovely pictures that mummy just took for my little sweet heart before I catch up with my afternoon nap.  😛
 Hehehehe. I am riding on my new boat!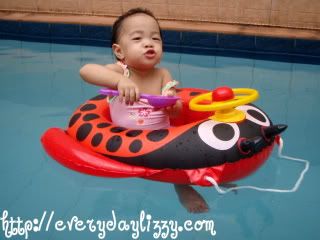 Fish! Fish! I have scooped a fish! Hahahaha…… ( Recently, she really have fun while teasing people. LOL!)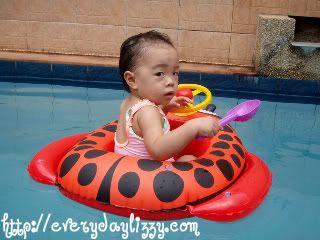 Oh! Mummy! The steering just can't help to turn the boat around. Can you help? 😯
When mummy bought this new ladybird float which even has steering and horn yesterday, I thought it will bring a merrier swimming experience for little Elizabeth compared to her existing plain float. She just learn about "Boat". So, this is like a boat to her. Moreover, there is a pulling rope. So, it's also like kids wagons.
Now, look at this sweetie! She really have so much fun in the pool this morning. 😉