Posted by Everyday Healy on November 12, 2008
Mummy can see that she is more on outdoor activities. However, she loves cooking or serving food now. So, look what she got this morning.
Stove, pot, frying pan, rice cooker, microwave oven, pressure cooker, wok, knife, fork, spoon and others.
And, mummy feels like letting her play with the real rice, and vegetables instead of "plastic gourmet". So, mummy started with some precook rice. Most probably there will be bread, carrot, cucumber, mushrooms and curry leaves to play with by tomorrow. 😛
But, that's not enough. She has to learn about meat, chicken, eggs and so on. Somehow, I don't think raw meats and eggs are appropriate toys. I am sorry, baby! We just skip that in your cooking class, ok? Have fun!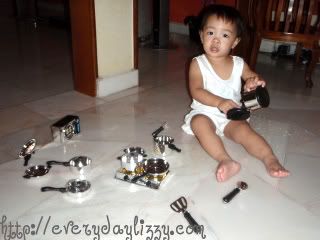 I think the rice is cooked. Ops… How come they still look the same? Hahahaha……
Mummy… Can you help me to fix the knob back to the cover? 😯