Posted by Everyday Healy on November 24, 2008
Elizabeth really get lots of presents recently. May be it's because of the Holiday Sales. But, partly also because mummy was amazed by her learning power now. Definitely, it's the time to receive all information and skills. So, I keep buying books and educational toys or games for her. 😛
And, I strongly recommend this game for developing the kids multiple intelligence.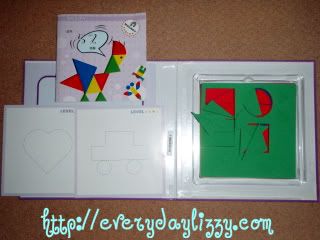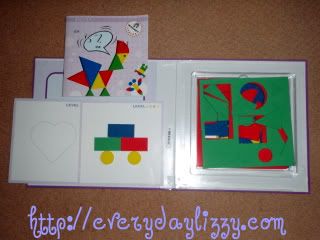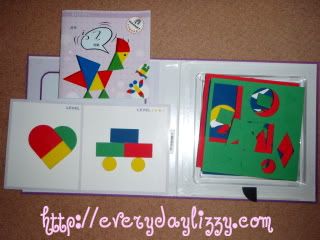 It's colorful! Light! Innovative! As they are just pieces of spunge with thin magnet at the back. Then, magnet board is provided at one side of the file. There are doted pictures for beginner to practise in creating specific things with shapes in it. There are also many other examples in the instruction book. 
Elizabeth gets to learn colors, shapes, creative arts, geometry, and the use of magnet through this game set. This set is really very attractive for kids creativity development. 😉
Good to play together. Convenient to keep and easy to bring around. Guess how much it is? Only about RM25. In my opinion, this is so much beter than those heavy wooden toys.