Posted by Everyday Healy on December 12, 2008
Last year, we have 3D birthday cake and beautiful cupcakes. For a change, we ordered some fruit tarts this year instead of cupcakes.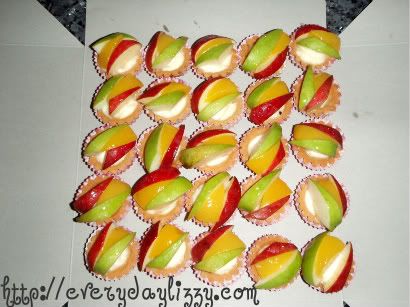 Also, we prepared curry chicken, salad, fried mee hoon and mee, poh piah, fried mayonnaise crabsticks, french fries, jellys and many BBQ stuffs including minced lamb shoulders, chicken wings, satays, fish and plain prawns, sausages, chicken meat balls, and corns. Of course, there will always be some "red eggs". That's Chinese tradition! 😛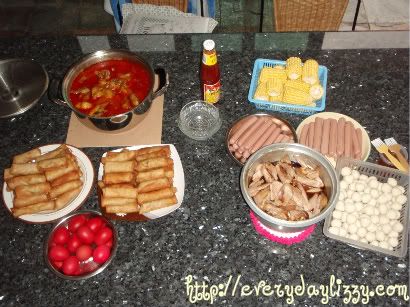 These food were ready about 2 hours before the party starts……
However, no cocktail. Only soft drink.All and all, thanks to "Ah Hwa Keh Mah". She was always the one who prepared all the food for mummy's birthday in the olden days. And now, it's all for Elizabeth! 😛
Just imagine 18 types of food for only about 17 people. I guess you know what's up. Yeah… lots of left over. LOL! Thus, daddy said there will be no more home BBQ party next year. As there is too much work for mummy, too much left over.
And, sorry for keeping you so long. Taa… Daa… Here's the lovely Teddy Bear birthday cake!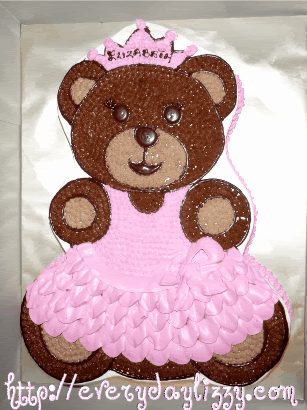 It's a 2D this year. But with the cutie pink dress, It really look so lovely! So… daddy made a great choice and thanks to Ritz pastry too. 😛