Posted by Everyday Healy on April 20, 2009
We were at book fair yesterday after little Liz finished her Kinder Beat. Not much for her. Only one book.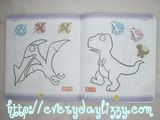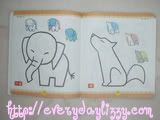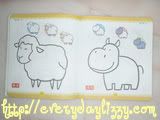 And, these are the pictures in it. Simple. Thus, should be easy to learn. There are also soldiers, girls and cartoon figures in this book. But, Dinosaurs are her favorite.
Anyway, she can't really draw anything out yet. No particular shape or figure. Just some lines, curves and circles. Never mind. Mummy can see that she is trying. And, She loves it.

Well, It's time for mummy to encourage this little ones to imagine how she draws out the trees, raining scenes, waterfalls, and animals. Of course, mummy will continue to widely expose her to nature, or may be nice architectures, lively pictures and beautiful designs.  That would be fun right, darling? 😉
Who know that you might want to become an architect or fashion and pearls jewelry designer . If that's the case, knowing how to draw is certainly very important. Hehe……
At this age, drawing is certainly good for toddler's brain development, especially right brain development.