Posted by Everyday Healy on June 13, 2008
Elizabeth loves music and anything that can create sound. And, she is really creative. She will beat her own stomach if you ask her where is your drum. hahaha…
Anyway, she had destroyed her small Xylophone long ago. Now, mummy replaced the new Build N Roll Xylophone for her since few weeks ago.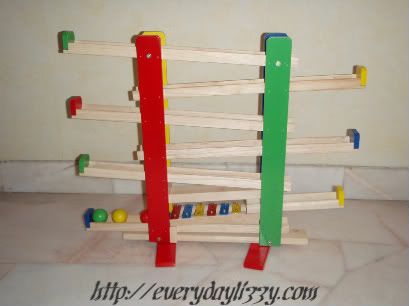 This is the educational wooden toys that has quality craftsmanship and non-toxic color coating. It's quite expensive, RM 100+. But, at least Elizabeth hardly get cut by the sharp ends from lousy workmanship. Also, she won't accidentally ate the coloring with its safe coating. Mummy feels safe and at ease. 😛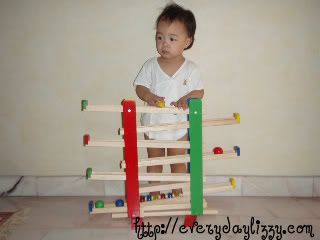 Elizabeth loves it so much initially. She was so excited to see the balls rolling down from each level. But, she started to get board after 2 weeks. LOL!
At least, mummy has seen her trying to put other things on the "rail" and experimenting weather they will move down or not. The answer is no. Only round balls will. She seems get it. She also learned to catch the balls which flowing half way down from the rail. 😛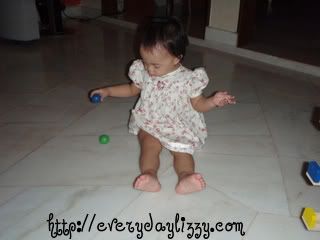 She loves to drop and roll the balls on the floor too. May be because by doing so there are sounds. Also, initially she can only hold on one ball. Now, she can play with 2 balls at a time. Besides, she even knock 2 balls together to create sound. However, the Xylophone does not appear attractive to her.
Anyway, she also learned that she is not supposed to simply throw the balls as they hit her head once or twice.  hahaha……