Posted by Everyday Healy on April 19, 2009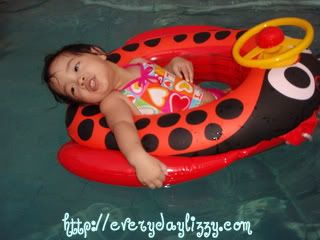 This is what happened when I swim with uncle Bill. He will pull my boat around in the water. Let me enjoy the blue sky and flying birds. Oh! The boat is just like a bed at that moment. So relaxing.
But, it's been some time he never swim with me. Mummy will do it now. But today, it's daddy's turn. It's kind of boring after lunch. But, I enjoyed swimming with daddy later in the evening.

Thanks to daddy keep making the stunt of jumping into the water. That's funny! Hahahaha……
Anyway, there were times I was alone in this ladybug boat, while "kakak" will be watching at the pool side. I still enjoy myself. "Row Row Row a boat, gently down the stream…" Just keep on singing. And, Hello! please give me a net to do "fishing". 😉