Posted by Everyday Healy on April 23, 2009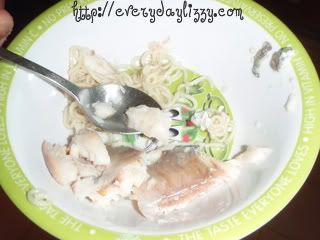 Well, this is something she always left behind recently. Obviously, this little girl don't like to eat steam fish anymore. It's ok. Her food preference changes from time to time.
Anyway, it's still mee and rice for lunch and dinner. But, the dishes is no longer fish ball and steam fish. Sometimes, she prefers fried fish. Most of the time she will orders vege and rice or mee and hot dogs. However, yesterday she suddenly make the order of prawns and mee. Then, she asked for chicken, prawns and rice for today's lunch.
Huh? Seems like she wants variety now. Good! You are welcome to make any orders you like, my lady! Hahaha……
And, mummy is so proud that she always knows her limit in terms of food intake. She will just stop when she feels enough, even there is still a lot of her favorite potato chips left. Frankly, even mummy can't have such fantastic control. Mummy can only make it with the help of appetite suppressant. LOL! So lousy! Hahahaha……