Posted by Everyday Healy on July 20, 2009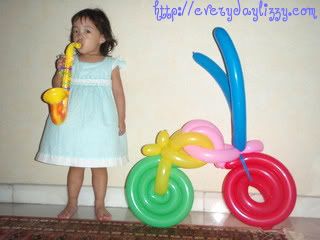 As you can see. It's quite a wonderful weekends. Little Elizabeth got something special while mummy brought her to Tesco to buy some food.
Frankly, this balloon bike is an amazing gift. Liz loves it so much that she even bring it to sleep. There is another lollipop which she immediately looked for it once she woke up from sleep on the next morning.
There are few more actually, including a small flower and a dog. There is also a book about dolphin. Thanks to the bookstall selling the expensive SCHOLASTIC  set in TESCO. And, thanks to daddy for the saxophone.