Posted by Everyday Healy on September 4, 2009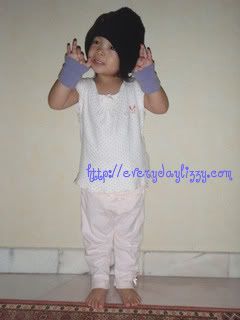 Mummy must post these pictures before I forget. You look so cute in these caps and wrist bands! What a cool Hip Hop style!
This curious and fashionable little vain pot will try any new fashion that seems interesting to her. Just as what happened to the food. She tries almost everything. Just keep eating without knowing the risk of getting "out of shape" or  what's weight loss austin. Somehow, she will  spit then out immediately if she finds it awful! 😉
Luckily, she still finds her own way to be in shape unknowingly through dancing, hoping, running and jumping around. This cool little baby really like to hip hop. Sometimes, she will switch to slow dance and said:" I am a ballerina." Cool, aye?