Posted by Everyday Healy on August 6, 2009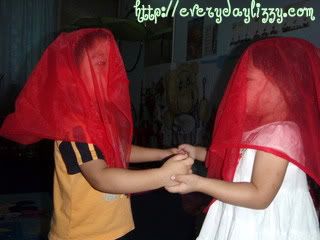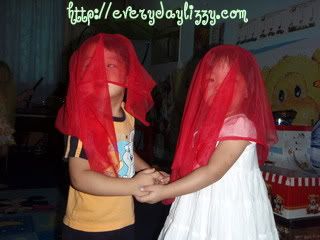 Look! It's just like getting married. So cute, right? What a memorable scene during her Kinder Beat music lesson! Somehow, It would be more perfect if the bridegroom is wearing tuxedo. Hahaha……
This weekend, Kinder Beat class is canceled. Just nice to let her get more rest. In fact, mummy is thinking should we stop this music lesson too besides stop schooling? Well, she seems to like music class. Thus, most probably mummy will let her continue as it's only once a week.
However, she seems to mention a lot about her school these days. Sometimes in the afternoon or night, she will suddenly says:"It's time to go to school."
Mummy:" Why you keep mentioning your teachers and friends in school. Do you miss schooling?"
Liz:" Er… No!"
Weird, isn't it? I think she did miss her school, especially the playground time. As she always said playing in the playground is so fun! But, why she refused to admit it?

Anyway, still got little bit runny nose today. But, looks like she has regain her appetite and energy. However, she already starts coughing. And, mummy can hear there is phlegm. So she starts taking medication for cough and phlegm too. Poor girl!