Posted by Everyday Healy on September 6, 2009
Time flies. Little Elizabeth already entered her 33 months since yesterday. Thinking about her progress. Mummy practically start "feeding" her encyclopedia.
This is her first animal encyclopedia. 😛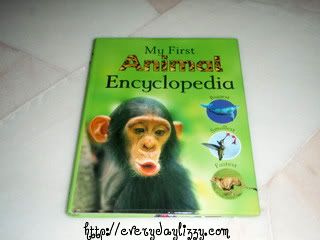 And, mummy is glad that I found her simple books about signs and flags.
Mummy:" Remember mummy told you about Pyramid? You will see a lot of Pyramid if you were in Egypt."
Liz:"Mummy… she wants to go to China. Mummy … she wants to go to India. Mummy… she wants to  go to Egypt. She wants to go to Japan."
Daddy:"We can go to Japan together. As mummy and daddy still not yet visited Japan."
Mummy:" Ya. And, Japan got Disneyland too." This appeared to be very encouraging for little Elizabeth. As she always said she wants to go to Hong Kong Disneyland.
Mummy is glad that little Elizabeth actually understands the fun of traveling. And, just the pictures of flags actually lead us all to wonderland. Feels great when everyone in the family sharing the same interest, having fun discussing about what we are going to do together.
Unless mummy has time to bring her to so many places, otherwise internet should be the best tool to help this little girl to know more about the cultures and things around the world. Well, hope mummy had made enough effort in expanding your exposure and making your life interesting. Happy 33 months! 😛